Hog Roast Catering
What we provide
Our hog roast catering is suitable for all types of events. From business events and social hog roast parties to having a hog roast wedding.  The hog roast cost can be affordable depending on the number of people you want to feed and what sides and extras you may want – so do ask about our hog roast prices. The average hog will serve around 100 people so worth considering.
Some details
What you can expect
We are different from many Dorset catering companies and especially so when it comes to Hog Roasts. A lot of hog roast companies will come to your event with the meat already cooked and sliced ready to serve to you. There is no guarantee of when that meat was cooked or if it has been in the freezer and thawed before selling on to you.
For us, it has to be fresh all the way! with full traceability of where the hog has come from – we arrive at your venue and slowly spit roast the hog for up to 6 hours. It is quite a sight and guests always want to come and have a look. The smell is amazing and we have even had guests ask if they can come and help carve!
We'll take care of it
What you don't have to worry about
We can provide hog roast as either a "pig in a bun" with sides or as part of the wedding catering main meal served to the table as an alternative to the traditional sit-down meal.
All our hog roast machines are PAT tested and included in the cost of the hog roast hire price along with the gas bottles. We will supply all disposable plates and napkins and our lovely staff will serve you along with any side orders that you choose.
Oh, and don't worry about the weather – with our hog roast cooked under one of our gazebos if it rains we will serve the hog roast indoors for you.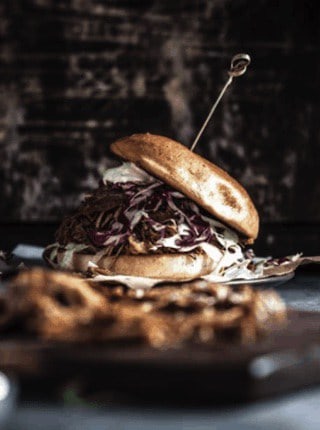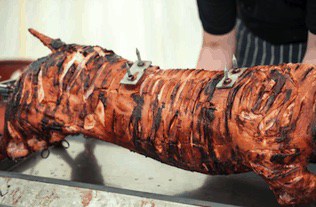 Testimonials
What our previous customers have to say
No hesitation in recommending
Thank you for providing a delicious buffet for my husbands'  memorial service.  Thoroughly enjoyed by everyone and I have no hesitation in recommending you.
Claret catering has been superb!
Claret catering has been superb everything went without a hitch.  Food exceptional, waiting staff attentive.
Far more than any other catering company
This is the second time that we have used your company for our family's wake catering arrangements.   You truly are now like one of the family.    I cannot thank you enough for the care and consideration and time you gave to us.  It was a great comfort to us to know that you were there to take care of all the little things we hadn't even thought about and I know that you did far more than any other catering company would have done. 
Amazing food!
Thank you for constantly looking after us. The food has been amazing.  We have loved every minute of our day.
Thank you, Dawn.
Thank you Dawn for helping us make my Mother's gathering such a very special occasion. Your beautifully presented and very delicious food, your kindness, your discretion, your professionalism, and your integrity helped us achieve our desire to have a celebration of Mum's life, rather than a time of grief and sadness.
Food is wonderful!
Dawn is the consummate professional… operates within a realistic budget, great attention to detail, well organised, provides flair when appropriate, and the food is wonderful! In addition Dawn is a caring, warm-hearted, generous individual with whom it is a pleasure to work.
Exceed our expectations...!
Claret Catering have been supporting Pooler Harbour Commissioners at its events for the last 3 years, whether it be a small group or a large scale event working with Poole Borough Council carrying out an emergency evacuation exercise. Dawn and her team continue to not only to meet but exceed our expectations both with the standard and quality of the food but also the professionalism of her team.
The food was spot-on!
Dawn is like a Mother.  She came round our house and organised everything. On the day the food was spot on. 
1st Class Service!
Without a doubt, the quality of food is always 2nd to none and coupled with a 1st class service.
Brilliant food and service!
Claret catering has looked after us from day one.  Taking away a lot of stress from us.   All of our problems dealt with - communication with this company is really easy and simple Plus, of course, providing brilliant food and service!
They always deliver
Having used Clarets services for a number of years Dawn and her team continue to exceed our expectations both with quality of food and professionalism of service.  Even at short notice they always deliver.
She is phenomenal!
We couldn't have asked for anything better.  All small details taken care of.  Guests said the food and service were the best they had ever had.  Would recommend Dawn to the world and back, she is phenomenal!
A heartfelt thank you!
I am writing to say a heartfelt thank you to you for the excellent service provided for our December event. You were a pleasure to work with in the lead up to the event, and on the day the whole team surpassed my expectations with the quality of your food and friendly customer service.
Incredibly flexible
Very supportive, incredibly flexible with so many dietary changes to deal with.  We received so many compliments about the catering on the day.
Well done Dawn and the team!
All the preparation and organisation that you did for us meant that we had nothing to worry about - well done Dawn and the team!
Ready to get in touch?
Book your Hog Roast event now!